Recent news
Port Security and Allied National Security Agencies launch swoop on illegal settlers around the Port
A dawn operation jointly carried by the military, Ghana navy, Tema Regional Police Command and the Ghana Ports and Harbours Authority's Security, has led to the arrest of 67 illegal settlers, around the port enclave.
The operation formed part of a nationwide exercise to ensure total security in the country.
The illegal settlers who are gradually growing at an alarming rate, are believed to be engaged in trading in illicit drugs and other criminal acts around the Port enclave.
The settlers do not only engage in socially deviant behaviours but are also degrading the beauty of the port surroundings by constructing haphazard structures, and indiscriminate littering of the environment.
The 67 individuals who were arrested from the raid, were handed over to the Marine Police Unit for further investigations and prosecution.
The Tema Port Security Manager, Col. Joseph Malik Punamane, revealed that this raid is a nationwide agenda by the state security organizations to reduce crime and illegalities in the country.
He expressed his outfit's resolve to continue to chase down these alleged criminals, in order to put a stop to the increasing social menace.
"We will continue this exercise until we flash all the criminals out of the place," he stated.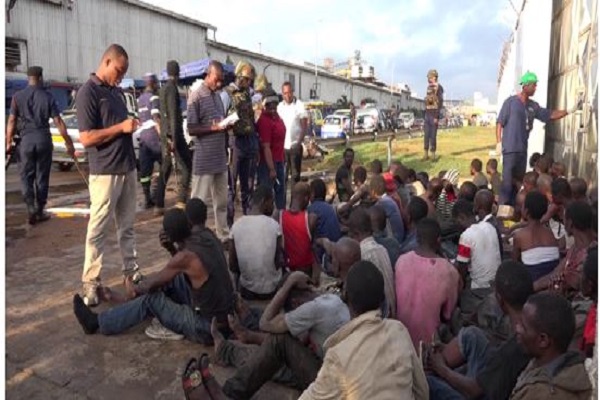 Two months ago, a similar raid and demolition exercise were embarked on by the allied security agencies operating within the Port, where 45 Ghanaians including 7 females, 19 Burkinabe's, 2 Nigerians, a Sierra Leonean and an Ivorian were arrested.
Port position list
10/02/2020 5:24 pm
download
General information about the Port of Takoradi
LOCATION
The Port of Takoradi is located about 400 km from the capital city Accra at 4 ° 53'N and 1 ° 45'W.
ARRIVAL
The port requires advance notice of 72 hours prior to estimated time of arrival (ETA) – before 14.30 hours on Monday to Thursday and before 10.00 hours on Friday for weekend working. Communication may sometimes pose a problem, particularly for vessels arriving Takoradi via Abidjan, as overland facilities are inadequate. In such case masters are requested to radio us before leaving Abidjan giving us some indication of vessels ETA.
ANCHORAGE
In Takoradi Bay with depth of more than 11 metres (please see location as per Admiralty Chart No. 3012) Quarantine: see AC No. 3012 beyond the two breakwaters at the approach to the harbour entrance.
TOWAGE
Towage is compulsory within the harbour. The port authority operates three tugs: two of 1,866 kW, one of 1,860 kW and one of 1,644 kW. All tugs are fitted with pumps and monitors for fire-fighting.
APPROACH
Apart from the Takoradi Reef, situated south of the Main Breakwater and ship wrecks noted on AC No. 3012, approach to the entrance is free from hazards. There are adequate navigational aids to ensure the safety of ships using the port: 1. Takoradi Lighthouse 4°532'N 1°45'W: group flashing white, 10 seconds, visible 32 km.
RADIO
The port maintains a 24 hour watch on VHF Channels 14 and 16 and any other convenient channel. This signal station can reach vessels 140 km away. During harmattan conditions, vessels can hear the signal 400 km from port. The Port of Takoradi is linked with the Global Maritime Distress and Safety System (GMDSS).
WEATHER
Prevailing winds from SW except during Harmattan when NE winds are dominating. There are two rainy seasons, from April to July and September to mid-November. Takoradi records the highest rainfall in Ghana.
WORKING DAYS/HOLIDAYS
The port works a SSHINC system from 0700 hours to 1900 hours for the day shift and 1900hours to 0700hours for the night shift. But it is closed to public on Christmas day and good Friday.
TIDES
Semi diurnal with a range of abt. 1 metre.
Maximum safe depths and maximum length
Main port
| b/u | LOA (m) | Depth (m) * | Max permissible draught (m) |
| --- | --- | --- | --- |
| Manganese | 157 | 8 | 8 |
| 2 | 153 | 9 | 9 |
| 3 | 153 | 9 | 9 |
| 4 | 183 | 9 | 9 |
| 5/6 | 225 | 10 | 10 |
| Bauxite | 170 | 9 | 9 |
| Oil | 120 | 8 | 8 |
Depth Of Water At Berth At Chart Datum
Sekondi Naval base is a military port that handles only vessels carrying O&G cargo. For any commercial call, prior arrangement will need to made by receivers through their Operator (Eg. Tullow or ENI) to obtain permit from naval authorities.
Towage and Pilotage is organized by a third party authorized by the navy.
All vessel movements are conducted between the hours of 0600hrs and 1800hrs. Entry of personnel and equipment is not permitted after 1800hrs
Cargo operations is by vessel cranes and if necessary, third party equipment is deployed ashore.
Deepest berth has a draft limitation of 8.00m
The Navy would arrange fenders at a rate of USD300 per day.
An under- keel clearance of 0.2m is allowed for.